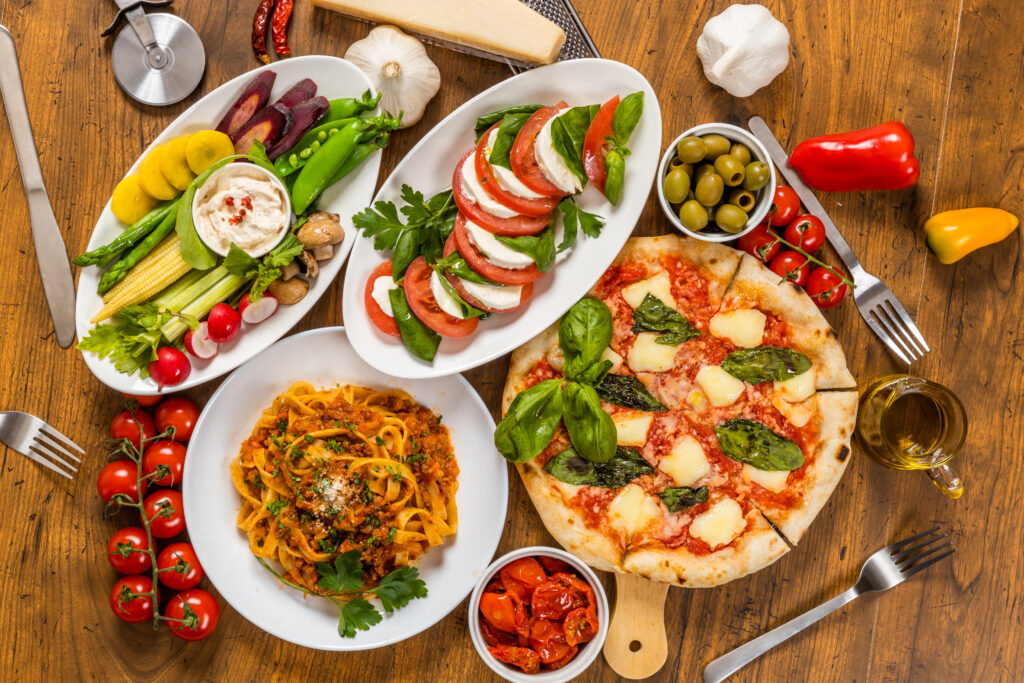 Introduction to Italian Cuisine
Pasta, Pizza, and Panna Cotta-we all love these scrumptious food items! But, did you know that these three P's represent the same food culture and origin? Well, yes, all of these splendid creations come from the country of Italy!
You are reading this blog because maybe you want to try out this exquisite cuisine, or you are merely hopelessly in love with it. So, in any case, you are lucky to find us.
Today, we'll have a detailed look at the exquisite Italian food and unravel Cibo il Mistero!
The Ideology
History states that although Italy itself came into being near the 19th century, Italian cuisine traces its origins back to the 4th century. Even back then, the cuisine revolved around simplicity and quality.
Often people picture Italian cuisine as a collection of exquisite and gourmet dishes. However, the earliest Italian recipes call for the use of simple ingredients.
Moreover, the Italian dishes comprise of only two to four primary ingredients. That's because the Italian chefs believe in the quality of the ingredients and not quantity. They concentrate on pairing the right raw foods together instead of throwing them into the pot, whatever pleases the eye.
History & Culture-At a Glance
The Italian cuisine traces its roots back to the fourth century. Thanks to the archaeologists and historians, one can find several books on Italian cuisine throughout the ages. From the earliest days to modern times, there are thousands of books offering insights into Italian cuisine.
Well, back to history, the Italian food first started to form properly after the fall of the Roman Empire. Then, during the middle ages, Italian cuisine got heavily influenced by German and Arabic cuisine.
As of modern times, Italian cuisine consists of a diversity of foods. However, a majority in the country's inventions with slight influence from other parts of the world.
Currently, Italian cuisine has around twenty sub-divisions, according to the regions. And, each division promotes the fresh produce of the region.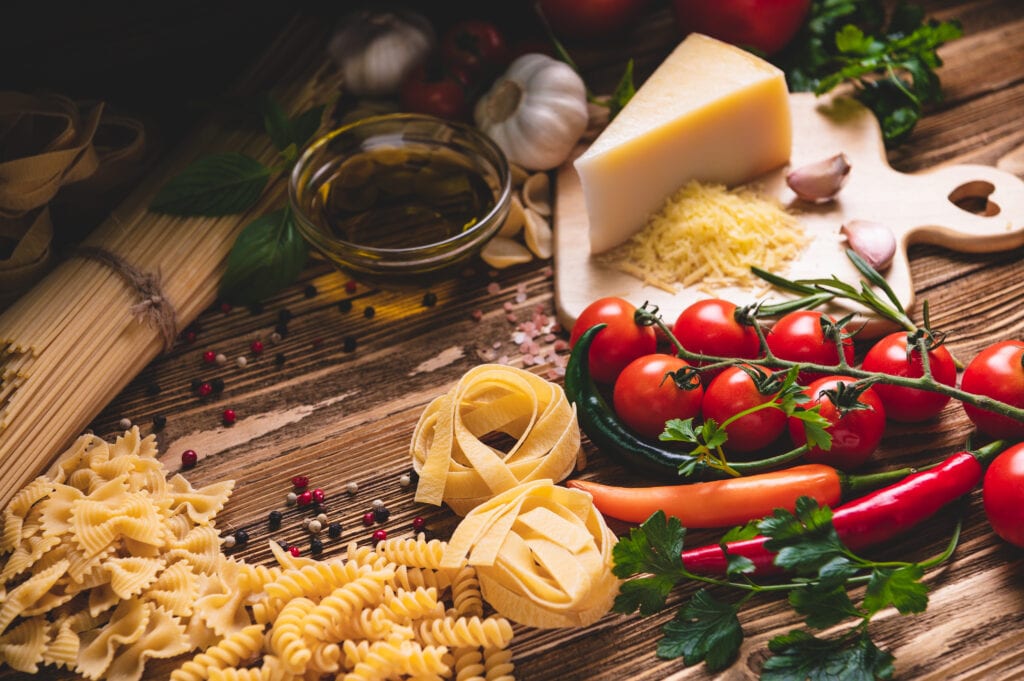 Meal Pattern
Italians view mealtimes as opportunities for spending time with loved ones. Hence, their mealtime lasts longer than average. On unique occasions like Christmas and New Year, the meal times even last for hours.
Originally, a single meal comprised four to five courses. These include:
Aperitivo (Appetizer)
Antipasto (Appetizer served right before the meal)
Primo (first course)
Secondo (Second or main dish)
Contorno (side dish)
Formaggio e Frutta (first deserts; cheese and fruits)
Dolce (Main Dessert)
Caffe (Coffee)
Digestivo (Digestives)
Today, however, an ordinary day's meal has been reduced to one or two courses only along with a side dish and coffee.
Main Components of Italian Cuisine
Italian cuisine has several world-famous dishes. Surprisingly, all these much-loved meals share some common ingredients. Let's evaluate each main component of Italian cuisine!
1. Olive Oil
Italians use olive oil in almost every other dish, either as an ingredient or dressing. They cook, fry, bake and even make sauces with olive oil. Olive oil is much nutritious and healthier than other oil options.
2. Pasta
As a staple pantry item, pasta is a specialty of the Italian cuisine. There are several variations of pasta, including spaghetti, ravioli, penne, and bologna. Moreover, the pasta also gets categorized based on their making style. The dries pasta does not include eggs and gets stored for years. Whereas fresh pasta should get cooked immediately.
3. Cheese
Cheese is another essential ingredient in Italian cuisine. However, in Italian food, there are a lot of cheeses to choose from, including Parmesan, Gorgonzola, Pecorino Romano, and fresh Mozzarella. All the types have a different flavor, texture, and production method.
Cooking Techniques
Italian cuisine mainly comes from people who worked long hours and had limited resources. Thus, as fancy as their dishes may appear, their cooking techniques are rather simple. And if one analyzes the cuisine in-depth, you would come to know that in reality, there are very few intricate dishes.
Some of the common cooking techniques used by Italians include:
Boiling or simmering
Pan Frying or pan roasting
Grilling
Braising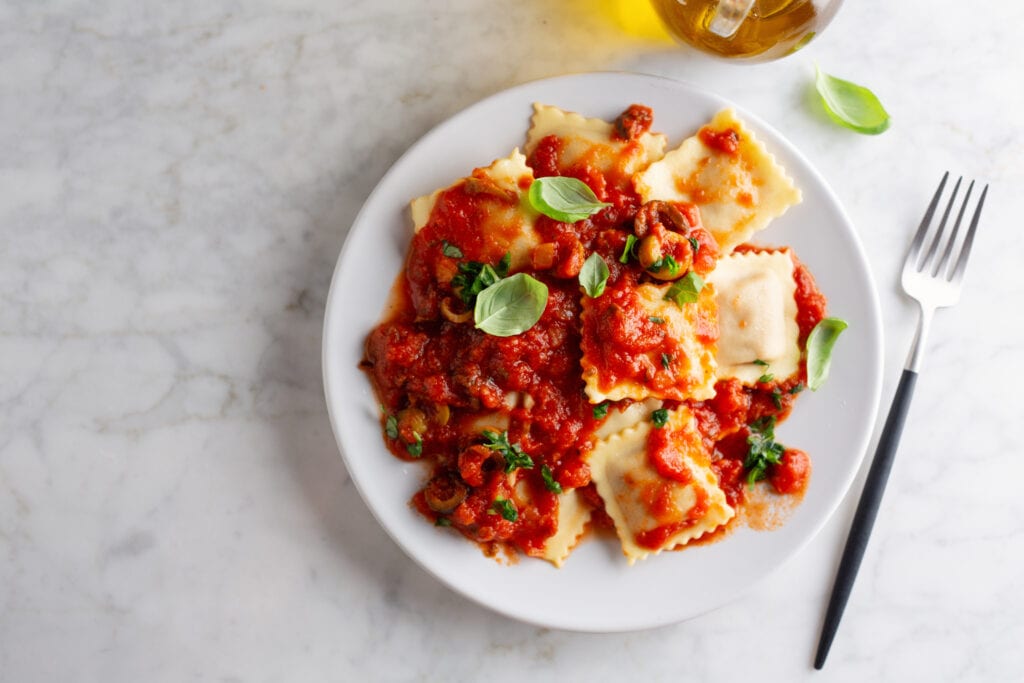 All of these techniques help in cooking the food quickly with limited food resources. For example, in the pan-frying technique, food gets cooked using a very small amount of butter or vegetable oil. And in grilling, food gets cooked over embers of hardwood or even over a charcoal fire. Thus, demanding low or negligible cooking costs.