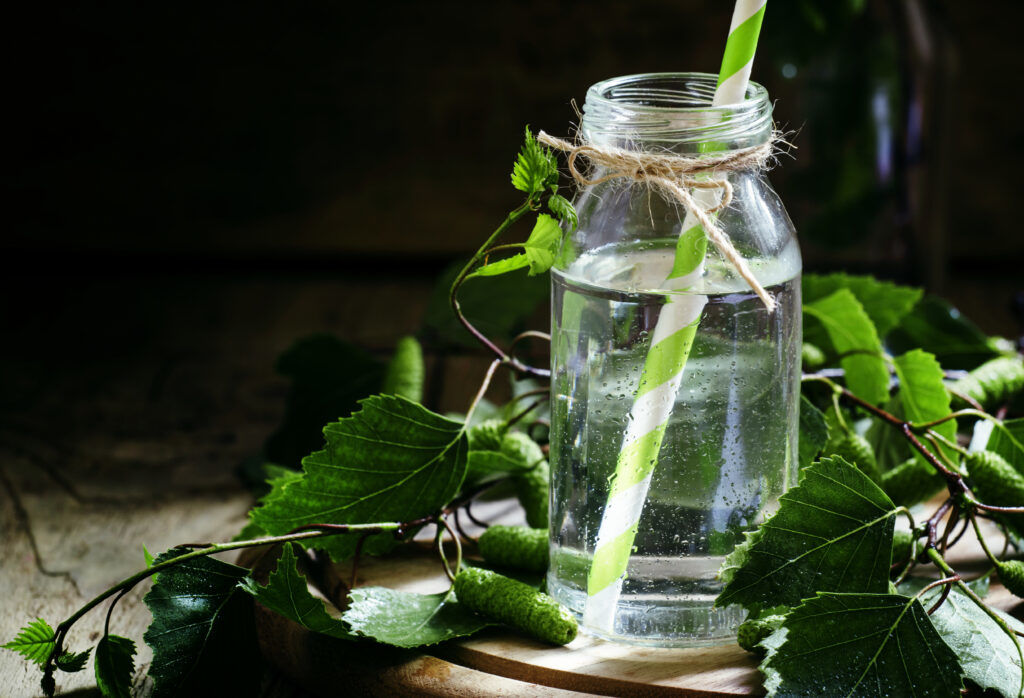 What is Birch Water?
Up till now, we all had heard about mineral water, distilled water, and sparkling water. However, recently, the international market is booming with a new type, the Birch Water. The water, derived from the Birch tree, has showcased several benefits and posed a few potential risks. The overwhelming Birch Water benefits have encouraged several individuals to stay hydrated with it, instead of mineral or other common types of water. Well, let us evaluate the subject in detail!
What is Birch Water?
So there's a new kind of water, trending in the market, like electrolyte or oxygen water maybe?
If that's the direction the boat of your thoughts is sailing towards, then it's time to tack your boat. Because that's the wrong direction. Your idea of Birch Water is only partially correct. Certainly, it is a refreshing, nutritious drink. But it is not a processed or modified version of the tap or mineral water that we drink. It is not a human-mind invention. Instead, it is a discovery. The Birch Water is the fluid tapped from the Birch trees directly. Thus, it is also known as Birch Sap. This transparent, sweet, possesses a silky texture and gets extracted from the following varieties of Birch Trees:
Betula Occidentalis (Red Birch)
Betula Pendula (Silver Birch)
Betula Alba (White Birch)
Betula Lenta (Black Birch)
Betula Papyrifera (Paper/White Birch)
Now, if we trace back the origins of Birch Water or Birch Juice, then you'll be surprised to know that it's not a recent discovery. Centuries ago, ancient Finno-Ugric and Slavs savored this healthy beverage as the birch trees were considered sacred in their pagan religion. Later the consumption of this plant-based beverage became a tradition in White Russia, Scandinavia, Germany, Austria, etc. In Northeast China, Korea, and Japan, people considered it as the holy drink of gods. Later, due to its health benefits, people began using it extensively in North America, and then, the rest of the world.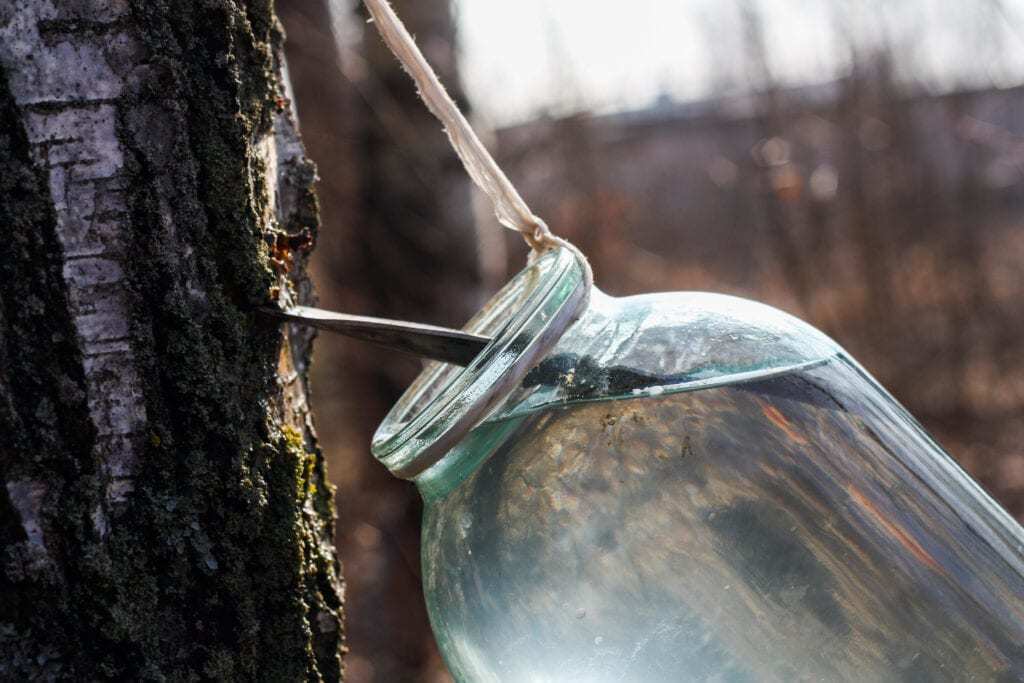 Extraction of Birch Water
The Birch water gets extracted at the beginning of winter and in spring when the sap is moving intensively along the xylem vessels. In spring, the extraction gets conducted specifically, when the leaves have not appeared, as the sap turns bitter later onwards. On the whole, the collection period lasts around a month a year.
The entire extraction process is manual, comprising of a thin twig or tube and a container. First, a hole gets drilled with the twig or tube in the trunk. The sap flows along the surface and gets collected in a container.
According to a study, the infections caused due to tapping holes result in dark stains and tree decay. Hence, afterward, the hole gets plugged to avoid the spread of infections.
Types of Birch Water
With massive popularity and demand, several companies have started manufacturing Birch Water. Thus, we can find a wide pool of Birch Water variety in the market, such as:
Bottled fresh Birch sap with a shelf life of 2-5days
Filtered Birch Water with a shelf life of 3-weeks
Pasteurized Birch Water with a shelf life of 1-year
Frozen Birch Water with a shelf life of 1-year
Birch Water with sugar (varying shelf life)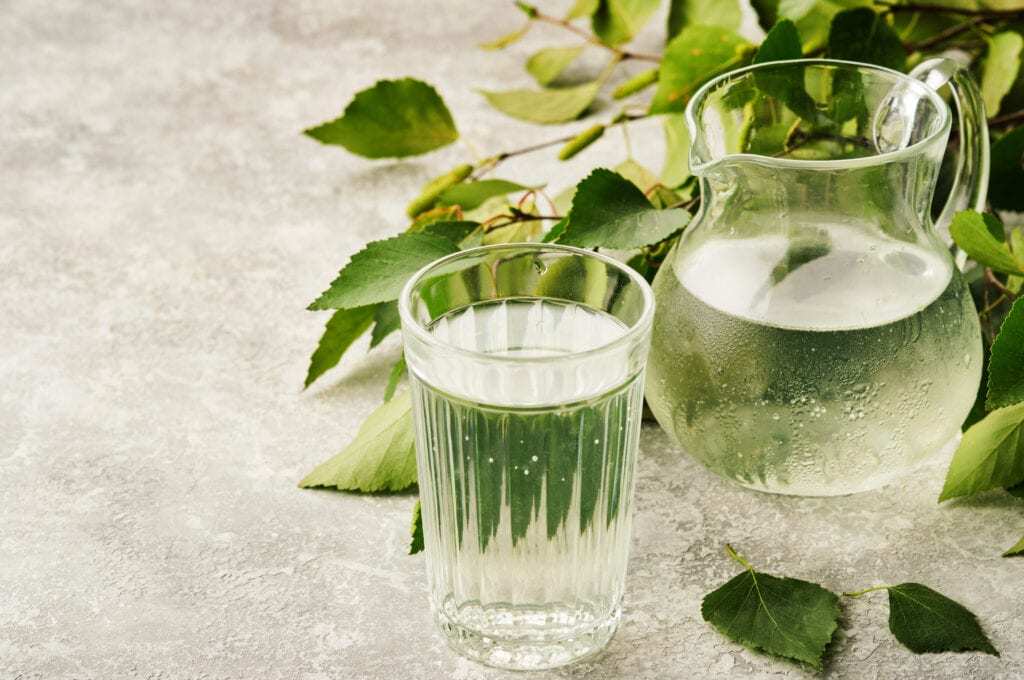 Advantages of Birch Water
Considering the composition of this water, it is one of the most nutrition-packed drinks. Per 3.5 Ounce, the beverage delivers 19 kJ of energy or 4.6 kcal. Hence, it provides an ample boost in energy.
The noteworthy point, however, is that the drink is rich in minerals. Its high manganese, calcium, zinc, and copper content helps to develop and maintain bones. For aged women, the water may even help to reduce spinal bone loss. While, manganese content of the water aids in digestion, and managing epileptic seizures. Its Vitamin C content and some other component minerals suggest that it may even have anti-oxidant properties. Along with keeping you hydrated, it also strengthens your hair and boosts your skin health.
Are there any side-effects? 
As stated above, Birch Water is the latest discovery, and no detailed studies are present on the subject. Researchers are still investigating the Birch Water, and while it has exhibited several benefits, it may pose potential risks too. A study conducted on Birch pollen allergy showed that a majority of victims had consumed Birch Water. So, before you try out this discovery, consult a medical expert.
Perhaps, the biggest threat the Birch Water can pose is manganese toxicity. It has a high concentration of manganese, which can be harmful to people with an impaired liver. Also, an overdose of Birch Water can stimulate adverse effects, considering that the upper limit (UL) for manganese in adults is 9-11mg/day and 2-6mg/day in children.
Therefore, it is advisable to take one serving a day for children and 2-3 servings for adults. Please note that a 300-ml of Birch Water contains 3-mg manganese.