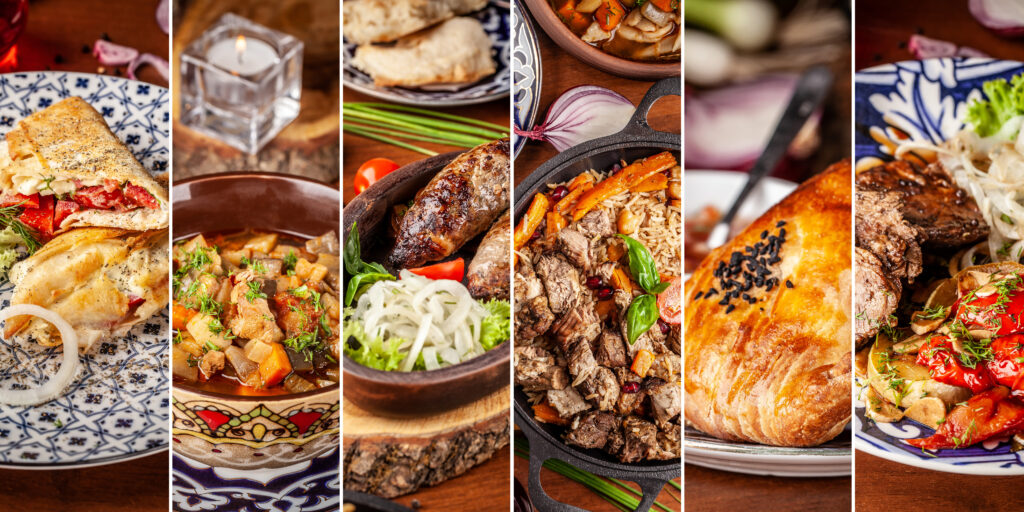 Top Food Places in Lahore You Should Eat at With Your Family
The city of Lahore has maintained its prestige with the ongoing cultural and traditional food. Food is one thing in this city everyone is a fan of. From the mouthwatering desi charga to the famous nihari, Lahore has it all. The food is so appealing and delectable, your taste buds will explode with deliciousness on the very first bite! Lahore is also known to have some of the world's most fire dishes, i.e. will set your mouth on fire.
Fast food in Lahore is not unknown to its visitors. Not only this, but Lahore has also proven itself with all kinds of cuisines. From Chinese to some hot burgers, we have been served with all. There are several renowned food places here that you would not want to miss for breakfast, lunch, and dinner. The prices are moderate but the food and dine-in are classy and Instagram worthy! From the M. M. Alam Road food street to the famous Gawal Mandi food street, this article brings you to forward the top restaurants that have gained a cult-like following. These are a must-try!
The Poet
Positioned under the shadow of the beautiful Minar-E-Pakistan, The Poet is located in the Greater Iqbal Park. This is a perfect location for tourists to dine in as for how significantly important the location is. Minar-E-Pakistan brings a taste of freedom to this place. The restaurant was named after the greatest poet of all time, Allama Iqbal. Opposite the restaurants are Badshahi mosque and Lahore fort. Keeping this in mind, the cuisine and set up of the restaurant is all Mughlai, reminding one of the Mughal eras.
Contact Number: 0304 111221
Salt'n Pepper
Situated in Commercial Zone, Liberty Market, Gulberg, Salt'n Pepper is one of the most famous restaurants to date. It is due to the exceptional cuisine, wonderful environment and low prices that the place is so famous. Salt'n Pepper serves us with Asian, Pakistani and international dishes. They also bring a vegetarian-friendly menu. This restaurant is specifically famous for serving rich fast food in Lahore.
Contact Number: 042 37244010
Haveli
This restaurant caught the eye of many food bloggers with its aesthetically pleasing location and view. Located in the old food street of Lahore, Haveli restaurant is one place in the town everyone wants to take pictures at. With the beautiful multi-colored walls to the old sentimental look, the restaurant has caught the eye of many people, including tourists, photographers, bloggers, and food lovers. The place lits up at night making the view even more beautiful. The cuisine served here is Barbecue, Pakistani and Seafood. This restaurant serves excellent food along with all its special features.
Contact Number: 0300 8414899
Siddique Kabab
This Kabab house caught the attention of many traditional food lovers for its succulent, juicy and mouthwatering fast food in Lahore. The restaurant is famous for its low prices but brilliant food. The cuisine includes Barbecue, Middle Eastern and Pakistani food for breakfast, lunch, and dinner. The place offers a neat and clean ambiance to enjoy food. It is always running full and everyone is trying the delicious one bite kababs. It is situated in Block D, one famous for its Bhaya Kabab.
Contact Number: 0322 4935974
Cock 'n' Bull
For all the spice and fire lovers, this restaurant is the spot where you need to go. Spending less money over flavorful food is something everyone would go for. Cock 'n' Bull is a renowned restaurant famous for its best burgers in Lahore at low prices. They serve specialty in fast food and middle eastern food. This restaurant is located in Liberty Commercial Zone, Gulberg, next to salt n pepper. They also deliver food via foodpanda Lahore. You should definitely try the shawarma here.
Contact Number: 042 35789449
Freddy's Café
Freddy's café has earned customer support and trust for years now. The phrase 'Old is Gold' works the best for this restaurant. It is located at the MM Allam Road, Gulberg. This restaurant was able to deliver ambrosial food with a variety of entrees. It has tried to compete with its competitors, and, well, has emerged among the best food places in Lahore. It has a specialty in western food. However, the desserts are worth a try.
Contact Number: 042 35754416
English Tea House
Wow, what a pleasant place for a family gathering! The beautiful outdoor and indoor seating arrangement and an amazing environment. English Tea House is well known for its hi-tea platter. However, they also serve the best burgers in Lahore. This place is perfect to celebrate a birthday or take your Instagram worthy pictures. It serves delicious breakfast, lunch, and dinner. It is also known for its saccharine-sweet dishes. It is located in Gulberg II and serves the best western cuisine in town.
Contact Number: 042 35715535
Entourage
If you're tired of looking at and ordering the same menu, then you must visit this place. Entourage brings forward one of the most awaited and rarest cuisines of all time, the French cuisine. The restaurant displays a classic French style and the calm environment invites a lot of attention. It is located in the sector Y DHA Phase 3. Their desserts and savory items are one of a kind! Salute to the chefs.
Contact Number: 0321 8819948
BYOB (Build Your Own Burger)
If you reside in DHA and your love for burgers is unexplainable, then check out the BYOB. It has, for sure, the best burgers in Lahore. Just like the subway, this restaurant lets you choose your desired patty, bread, toppings, sauces, and extras. A custom-made burger is all you need! They also serve mozzarella sticks that are way too flavorful and piping hot! It is located in DHA Phase 8 – Ex Park View Block D Park View.
Contact Number: 0321 6887678
Pizza Channel
If you're looking for a good place to eat pizza with your family at a moderately low price, go check out Pizza Channel situated in M-Block Park, Pizza Channel, Shop 7 Hafiz Plaza 31، Model Town Extension Block M Commercial Area Model Town. It is one of the best restaurants according to foodpanda Lahore. Topped with extra cheese, their pizzas are a classic hero! Oh, and yes, the desserts are to die for too!
Contact Number: 0342 35166725
Rina
Another one of the most thrilling restaurants you will find in the foodpanda Lahore list is Rina. It serves the best desserts in town. From the traditional chocolate eclairs to the best cheesecakes in town, Rina has certainly made its reputation! They also serve some sizzling hot main entrees that will make you lick your fingers. You can find this restaurant at Shop No. 16 Street 15 X Block Commercial Phase 3, Sector Y DHA Phase 3.
Contact Number: 0323 2222505
Namak
Namak restaurant is a popular restaurant in Lahore that serves extra delicious and heavenly traditional, sub-continental food. They have a beautiful, sit- down, sitting arrangement with lots of pillows and complete privacy. The place serves amazing Afghani cuisine and has excelled in its traditional drinks. It is located all over Lahore, however, Maulana Shaukat Ali Road, Near Akbar Chowk، Block D Faisal Town branch is the best.
Contact Number: 042 111 333 555
Consider yourself as privileged when living in Lahore for you can bless your taste buds with the most luscious food in all of Pakistan. These are the top 12 restaurants you would want to visit and eat at. Give the foodie inside you a pleasureful meal at these restaurants!