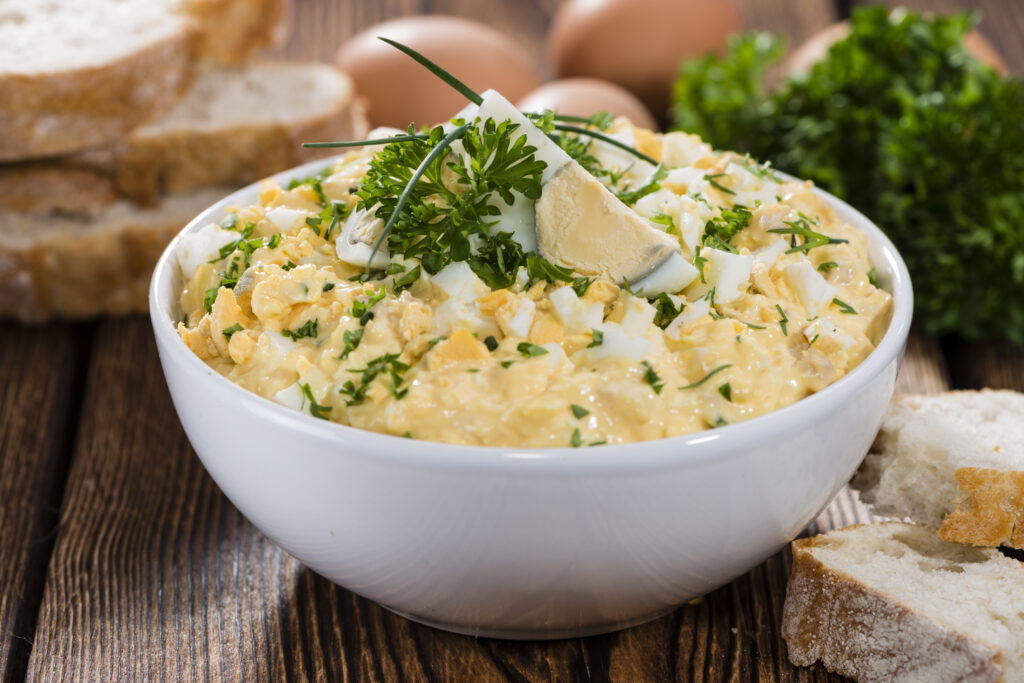 The Ultimate Egg Salad Recipe & Guide
We have all grown up watching our mums making sandwiches with a delicious egg-based filling. Whether for a school party or evening snack, these egg and mayonnaise sandwiches have remained an all-time favorite!
Do you still love savoring this delicious Egg Salad but don't know the best way to make it? Do you wish to recreate the classic Egg Salad easily and quickly? Well, then you are on the right page!
Know your Egg Salad!
Primarily, the Egg Salad is a side dish comprising of hard-boiled eggs and mayonnaise. Although these are the two main ingredients, one can add various other ingredients to enhance flavor and aroma.
Usually, people combine hard-boiled eggs, mayonnaise, mustard, onions, celery, herbs, and seasonings. The resultant mixture resembles a lot of chicken salad.
Traditionally, the Egg Salad is popular as a sandwich filling. However, people also use it as a topping for other salads, dressing, and even simply as a snack.
Egg Salad contains lots of eggs and mayonnaise, which is why health enthusiasts often end up questioning whether it is good for health or not. Eggs are pretty nutritious. It is a high-quality source of protein that comes at the cheapest cost.
Read more about Egg Nutrition here!
As for the mayonnaise, you can substitute it with any low-fat option. You can also use these healthier mayonnaise substitutes:
Low-Fat Greek Yogurt
Avocado
Hummus
Egg Salad Varieties
As mentioned earlier, Egg Salad has a lot of different varieties, and people can invent more by adding ingredients. Some of the additional popular ingredients include Bell Pepper, Cucumber, Pickles, Cheese, and Ketchup.
In some countries like Russia, a special type of Egg Salad gets consumed as a traditional dish. It suggests that you will find a different variant of Egg Salad depending on the region you are currently living in, and hence, there exist numerous types.
The Egg Salad recipe mentioned below combines some basic ingredients that are present in almost every pantry. These include eggs, chives, onions, dill, celery, and garlic mayo for creaminess. But, depending on an individual's taste preferences, you can always add more items, such as:
Chopped or blended Avocado
Chicken or Shrimps
Carrots, Cucumbers, and other veggies.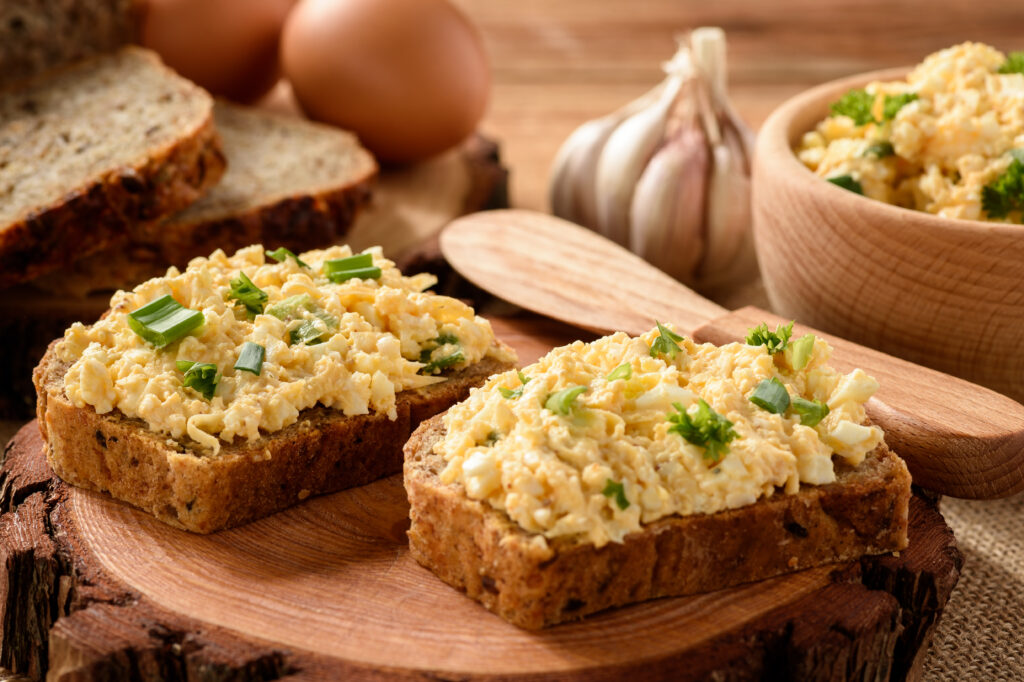 The Best Egg Salad Recipe
Although making Egg Salad appears pretty simple, it can be challenging for many beginners and picky eaters, especially when you want to recreate a dish from the past but no insights about ingredients and techniques.
Nevertheless, we have the perfect fool-proof solution to making the best classic Egg Salad. It is an amazing and super-easy recipe that will leave you licking the bowl in no time.
Just a few tips before you begin the recipe. Prepare all your ingredients, tools, and kitchen essentials beforehand to avoid any fuss while cooking. Also, revise the recipe thoroughly to avoid having to refer to the recipe again and again. Let's begin!
Here the ingredients that you will require:
Eight hard-boiled chopped Eggs
2-tbsp chopped celery
3-tbsp chopped onions
3-tbsp chopped dill
3-tbsp chopped chives
1/3 cup of mayonnaise
2-tsp lemon juice
2-tsp mustard
½-tsp salt
½-tsp paprika
¼-tsp pepper
1-minced garlic clove
Instructions:
Either in an instant pot or wok, boil the eggs until they become hard. Take them off the heat and cool completely. Chop the eggs according to preference. Generally, chunky pieces taste and feel better.
In a bowl, add eggs, celery, dill, chives, onions, and mix well. Now, use the remaining ingredients to prepare the dressing. Transfer the dressing in the bowl and mix till well-combined. It's ready!
The Egg Salad will last for two-three times a meal. You can always multiply this recipe for larger batches of Egg Salad. And, feel free to add any loved ingredient, such as cucumber and chicken.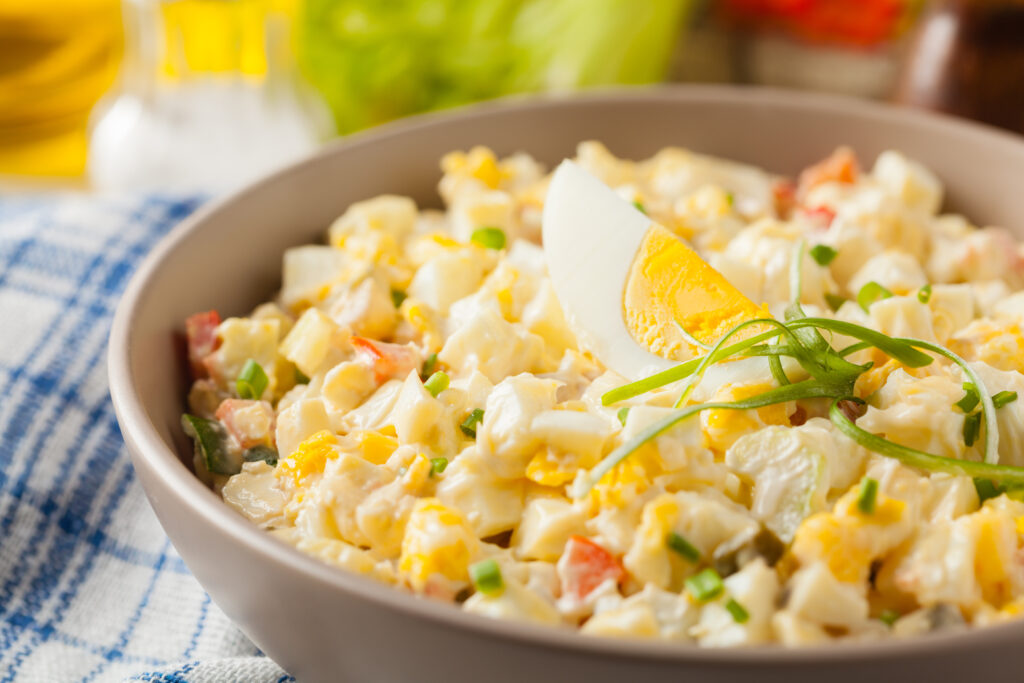 Egg Salad Dressings
The recipe mentioned above combines plain mayonnaise with several spices and herbs for a creamy taste in the resultant Egg Salad. It goes well with the chopped veggies and eggs. However, you can always opt for prepared ready-to-use salad dressings available at various marts.
Serving & Storing Tips
Once prepared, you can serve the Egg Salad as a side for different dishes. Or, fill it in sandwiches for an amazing overall taste. Perhaps, the best way to consume this salad is to eat it plain. For storage, you can transfer it into an airtight container and refrigerate for up to 3-days.