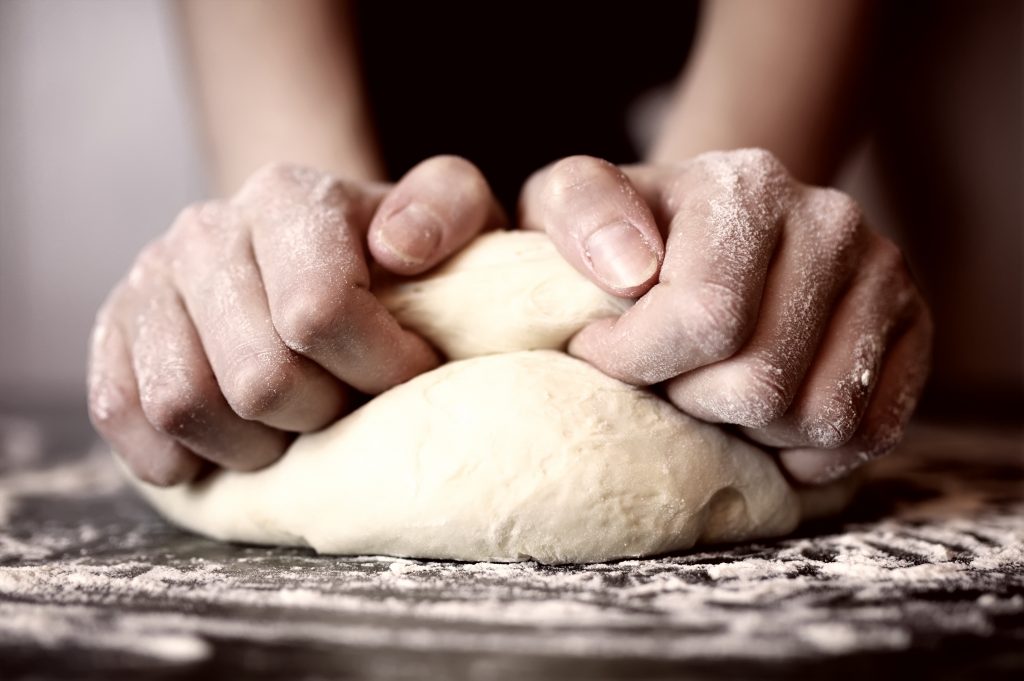 How to Make the Best Pizza Dough Ever
Ordering pizza from your favorite chain is undeniably convenient. However, there's a limit to how much you can order, both financially and mentally. Having the same flavors would eventually start to get on your nerves.
But does that mean you should settle with other less competitive chains for a while? Or perhaps, quit on pizza because your pocket or health doesn't allow?! Of course, not!
Instead, you can make a much healthier and pocket-friendly version at home! I know, I know; you're probably worried about the pizza dough.
But worry no more. Here, you will learn the best recipe for pizza dough and some handy hacks to make it the easiest way! So, let's get started.
Why Should You Make Pizza Dough at Home? 
To be honest, in Pakistan, there are hundreds of reasons why you should make pizza dough at home rather than buying the one sold in the markets. First things first, ready-made pizza dough is available in large-scale supermarket chains, which makes it completely inaccessible to Pakistan's majority.
Also, most of this pizza dough has undergone excessive processing and contain too many chemicals. Hence, depriving the nutritional content as well as making it a harmful product to consume regularly.
Moreover, the taste and texture of industrially manufactured pizza dough are quite plain when compared to the scrumptious homemade ones. And, even if you keep all these factors aside, the huge figures on the price tag of the ready-made pizza dough in stores will automatically discourage you from purchasing them.
What Goes into the Pizza Dough?  
For making the pizza dough, you will only need the basic pantry items. These include:
Flour
Oil
Yeast
Water
Salt
Sugar
The accurate quantities of these ingredients are mentioned below. But before you head on to it, let me tell you that you can use any oil for the recipe. However, using olive oil will yield the best results. Also, try not to deviate from the suggested amounts and ingredients much, especially if this is your first time as minor changes can flat your bread.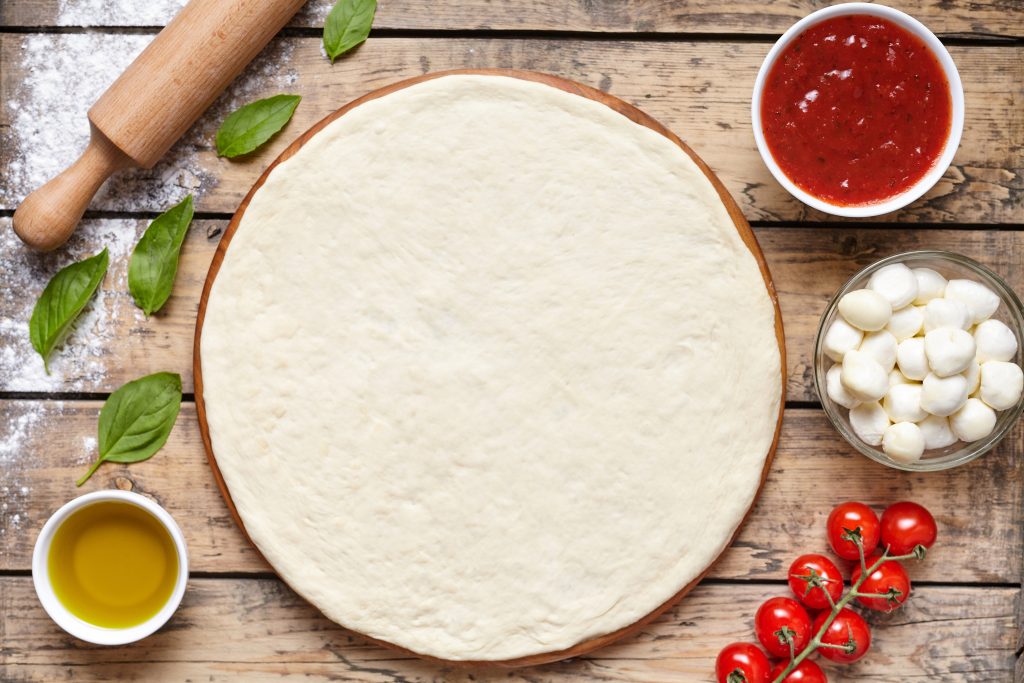 How to Make the Best Pizza Dough?  
Well, you have learned all about the ingredients and fundamentals. Perhaps, now, it's time to make some delicious thick and chewy pizza crust with this easy, fool-proof pizza dough. Note, the recipe yields dough for two 12-inches pizza.
Ingredients
320ml warm water
2 ¼ tsp of instant yeast
1tbsp granulated sugar
2tbsp olive oil
¾ tsp salt
440g all-purpose flour
Cornmeal for dusting pans
Method
Whisk water, yeast, and sugar together. Cover for 5-minutes.
Add salt, olive oil, and all-purpose flour. Mix until it forms a dough.
Sprinkle some flour and roll out the pizza dough on it. Then, with light hands, knead the dough for 3-4 minutes. Your dough must be soft and must bounce back upon poking.
Transfer the dough in a bowl, cover, and leave for 1 to 2 hours. 
Meanwhile, preheat the oven at 246 degrees Celsius and prepare the pan. Grease the pizza pan lightly and sprinkle cornmeal on it. 
When the dough has doubled, transfer it on a surface. Punch it to release air bubbles and divide them into two. Lightly roll one half on a lightly floured surface. 
After shaping, place the dough on the prepared pan. Then, create the rim by pinching.
Now, cover for another few minutes. 
Top the pizza and bake for 10-15 minutes!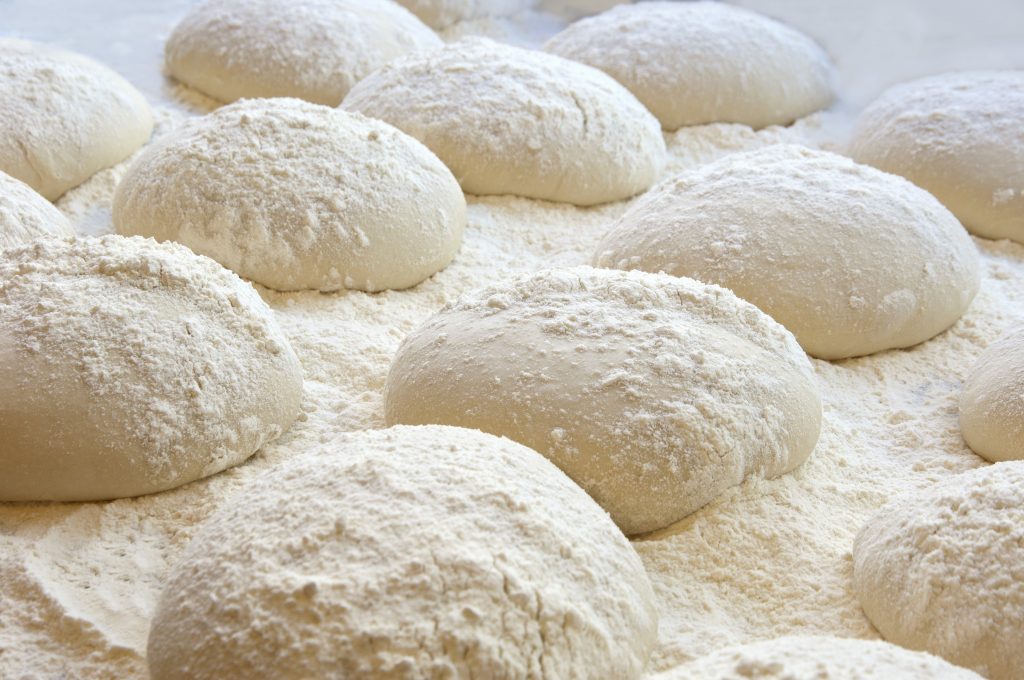 How to Store & Freeze Pizza Dough?
The recipe given above yields two pizzas of 12-inches. If you do not wish to make one of the two or both of them right away, then you can also freeze them for up to three months. Just separate the dough into two equal halves after they rise and apply a non-stick spray or slight olive oil on their surface. Once done, store them separately in zip lock bags in your freezer. When ready to bake the pizza, thaw the dough by placing it for 8 hours in the refrigerating section and an hour or two at room temperature.
You can also store the dough for 8-12 hours in the refrigerator before it rises to cook later. Letting it rise in the refrigerator will add to its quality, but the time estimate shows that it's a lengthy process! Also, after taking it out of the refrigerator, let it rest for 30-45 minutes on the kitchen counter.