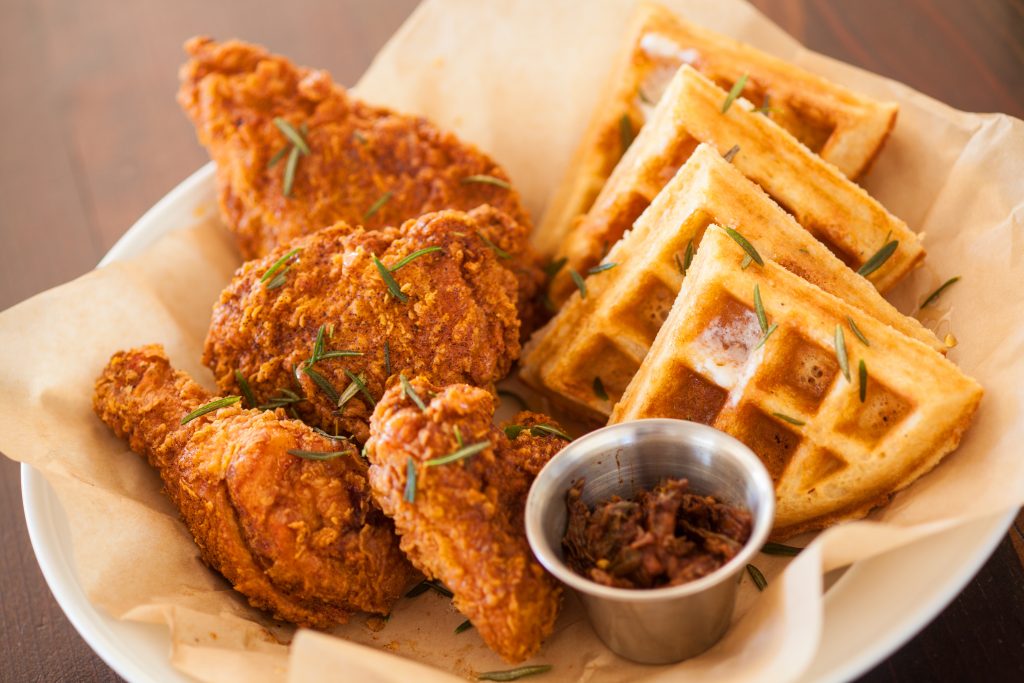 Classic Chicken and Waffles
Classic Chicken and Waffles, like most foodstuffs, came into being after a whole lot of experiments. Not that someone was trying to make the perfect classic chicken and waffles, but someone surely was trying to get to the perfect ingredient to go with waffles. So, it came to chicken from catfish and other combos after a series of events. But, once it did, it secured a permanent soft spot in the hearts of many.
Although it's not as common in Pakistan as the US, it still holds its position in one of the best-loved foodstuffs of the world. And on that account, we Pakistanis should also be exploring this dish. Don't you think? So, let's dive right in!
Types of Chicken and Waffles
Over the years, different food chains and cooking experts have introduced their versions of Chicken & Waffles. However, there are only two basic and broad categories of the dish:
Southern-style Chicken & Waffles
Traditionally, the combination of fried Chicken and Waffles gets called soul food in America. Soul food refers to an ethnic cuisine prepared by African Americans in South America.
And, this particular version gets served only as breakfast. It is the most popular meal in Baltimore and Maryland.
Pennsylvania Dutch Version
Contrary to the Southern-style, the Pennsylvania Dutch Chicken & Waffles combines pulled chicken with plain waffles and gravy. Usually, the stewed, pulled chicken rests on top of the waffles, and then, the entire dish gets covered in gravy. It is most popular in Northeastern America.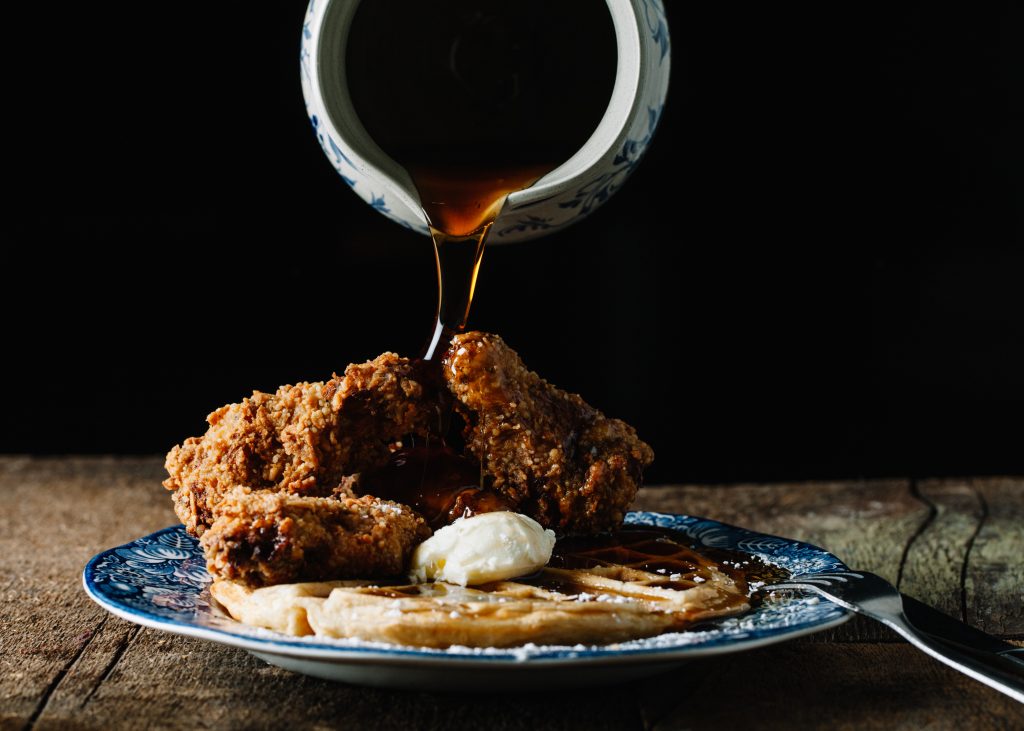 How to make the best Classic Chicken and Waffles?
Well, it's time to make yourself one super-scrumptious chicken and waffle sandwich. The ingredients that you need to make this soul-satisfying snack are as follows.
8-chicken tenders
4-eggs
8-frozen square waffle
8-slices cheddar cheese
1-cup mayonnaise
1-cup cornstarch
2-cups all-purpose flour
1-quart oil for frying
¼-cup heavy cream
¼-cup maple syrup (optional)
1-tsp dry mustard powder
1-tbsp cayenne pepper
1-tbsp ground black pepper
1-tbsp salt
Now, whisk together cream, eggs, salt, black pepper, and cayenne pepper. In a separate bowl, mix cornstarch, flour, and salt. Now, coat the chicken into the beaten egg mixture and flour mixture. Let it rest for 20 minutes or more. After that, deep fry it until golden brown. Next, mix mayonnaise, mustard powder, maple syrup, and horseradish.
Finally, top a waffle with 2-pieces of chicken and 2-pieces of a cheddar cheese slice. Broil it until the cheese melts. Top the other waffle with mayo mix, and then place it over the other.
Should you put Syrup on Chicken and Waffles?
I strongly recommend adding some deliciously sweet maple syrup on top of your Southern-style Chicken and Waffles to improve the overall flavors.
However, there are several other amazing toppings that you can add to this dish. Here are some recommendations!
Honey:  If you do not prefer maple syrup but are searching for the intense sweet flavors in your Chicken and Waffles, then honey is the best go-to option. 
Salsa: Want to spice up things? Try adding some Salsa on top of your Chicken and Waffles.
Gravy: Although the Pennsylvania version comes with gravy, you can add it to the southern-style one too. It's all a matter of taste preferences! 
Curry: Yes, you can add curries to this dish too. But ensure that the curry does not contrast with your Chicken and Waffles. Remember, you want to augment the flavors, not change them completely. 
Sweet Chili Sauce: If your Chicken and Waffles has a lot of exotic spices, then it would be better to top it with some sweet chili sauce. The slight sweetness will balance the spices without compromising on the original taste.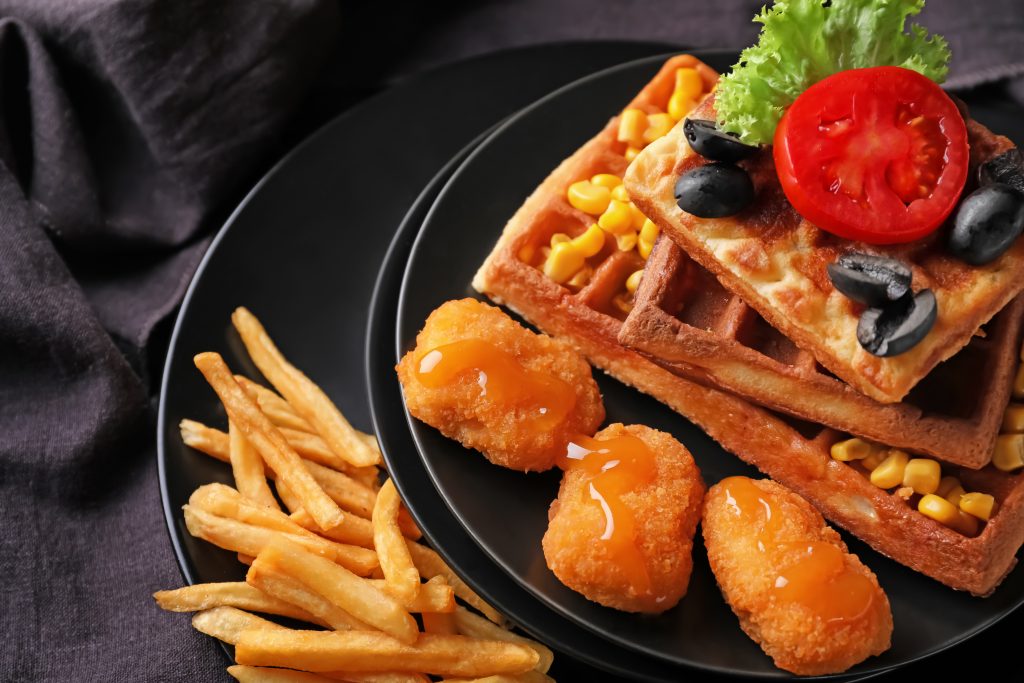 What is the best way to serve them?
Generally, restaurants and food chains serve the Chicken and Waffles without additional sides. For many, the serving technique works. However, if you're making the dish at home, then adding some sides will augment the presentation as well as taste. Here are some quick and popular sides to serve with your Chicken and Waffles!
Corn: Believe it or not, the pairing of corn with Chicken and Waffles is super tasty. The sweetness and plainness of the corn balance the spices of the fried chicken very well.
Rice: You can always some flavored rice to Chicken & Waffles. But, ensure that the rice flavorings matches the fried/stewed chicken flavors.
Greens: Adding some green vegetables to a dish makes it not only healthy but delicious too. You can serve Chicken and Waffles with some sautéed spinach or crispy greens.