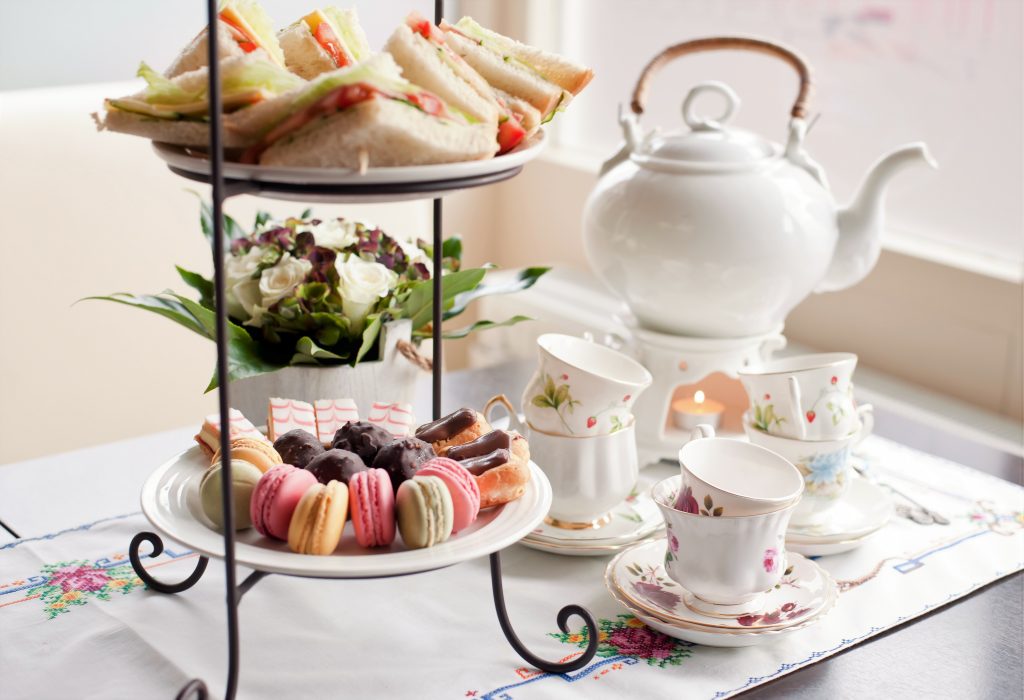 Best High Tea Recipes
Are you planning to arrange a high tea party? Have you invited all the guests and made the required arrangements? But, what about the high tea itself?
High tea parties have become a common aspect of our society. However, not all of these events tend to be successful. Reason? It is because people pay more attention to the event decorations and arrangements rather than the high tea itself. High tea without a special menu is no high tea at all. It's a simple tea party and a disappointment for the invited guests.
Well, if you are looking for some quick, easy, and finger-licking good high tea recipes, then you have arrived in the right place!
What is High Tea?
The tradition of high tea first originated from Britain and is still an important part of their society. By definition, high tea refers to the act of having tea with plated food items. Literally, high tea refers to drinking tea while seated on high-backed chairs at a table filled with plated items.
Initially, in Britain, the royals and elite class families started the practice of combining tea with a meal and consuming it in a leisurely manner, such as by sitting on posh sofas. Unlike afternoon tea, high tea created a formal and business-like environment.
However, during the Industrial Revolution, the working class started to go faraway for jobs and returned at around 6. Thus, they begin consuming a meal with tea regularly.
Today, in our society, there is a commonly-practiced tradition of serving tea with snacks. But, we do not label it as high tea. When we use high tea, we refer to the high tea parties as well as events hosted in the same luxuriant and formal manner as in history.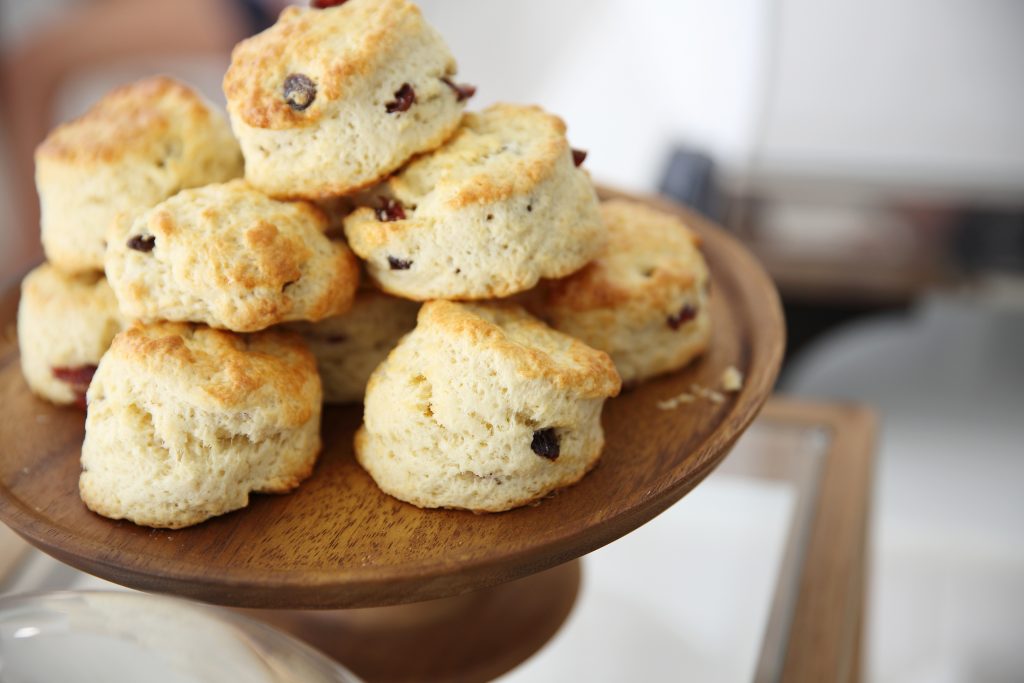 Best High Tea Recipes
So, if you are arranging a high tea, then it is highly recommendable to pay keen attention to the food items. You can serve regular Samosa and sandwiches. But, your guests will probably not feel impressed. Hey, don't worry because I have compiled some quick, easy, and delicious high tea recipes. Try them all!
Scones
Originating from Britain, the scone is a fluffy, soft, and often sweet, biscuit-like foodstuff that gets served at high teas. It comes in several regional varieties, but the most common ones include drop cones, girdle scones, and pumpkin cones. The main difference between all of them is only filling. Also, the girdles scones get cooked on the stove while most others get baked.
Basic Scone Recipe:
Ingredients:
8-Ounce Self-raising Flour
5 Fl.Ounce Milk
2-Ounce Butter
1-Ounce Caster Sugar
One egg to beat and glaze (Alternative: Small amount of milk)
Salt (to taste)
Method:
First, prepare the oven by preheating it at 200-220°C. Then, prepare the dough by mixing flour, salt, and butter. Mix in the sugar and milk to this batter gradually.
Next, knead this dough and pat it out when it's around 2-3cm thick. Take a round cookie cutter and cut small rounds.
Now, glaze the baking tray and line these uncooked scones on it with appropriate distance. Glaze the top of these scones with beaten egg and let it bake for 10-20 minutes. Take it out, once golden brown, and serve it with jam or perhaps cream.
Madeleines
As traditional small cakes, the Madeleines originate from two communes of the Lorraine region of northeastern France. A Madeleine has a unique shell-shape, created by baking in special shell-shaped trays. These little cute sponge cakes look rather fancy and taste awesome.
Even more, they require the most basic ingredients and baking tools. The Madeleines get made from Genoise batter. It is a cake batter that involves beating up the eggs to give the fluffiness and lightness to the cake. Usually, the buttery Madeleines get served sugar-coated or dunked in chocolate.
Basic Madeleine Recipe
Ingredients:
½ cup unsalted melted butter
½ cup granulated sugar
Two large eggs
2 tsp lemon zest
1 tsp vanilla essence
1 cup all-purpose flour
1/8 tsp salt
½ tsp baking powder
Method:
Beat eggs as well as sugar together until thick, foamy, and pale. Beat together lemon zest and vanilla essence. In a bowl, mix flour, salt, and baking powder. Add little by little into the beaten egg mixture and fold. Be delicate as we don't want the egg mixture deflated. Then, separate quarter batters and mix it with melted butter. Add the butter-mixed batter back to the main batter and fold. Rest it in the fridge for 30-minutes and then bake for 10-12minutes in Madeleine pans.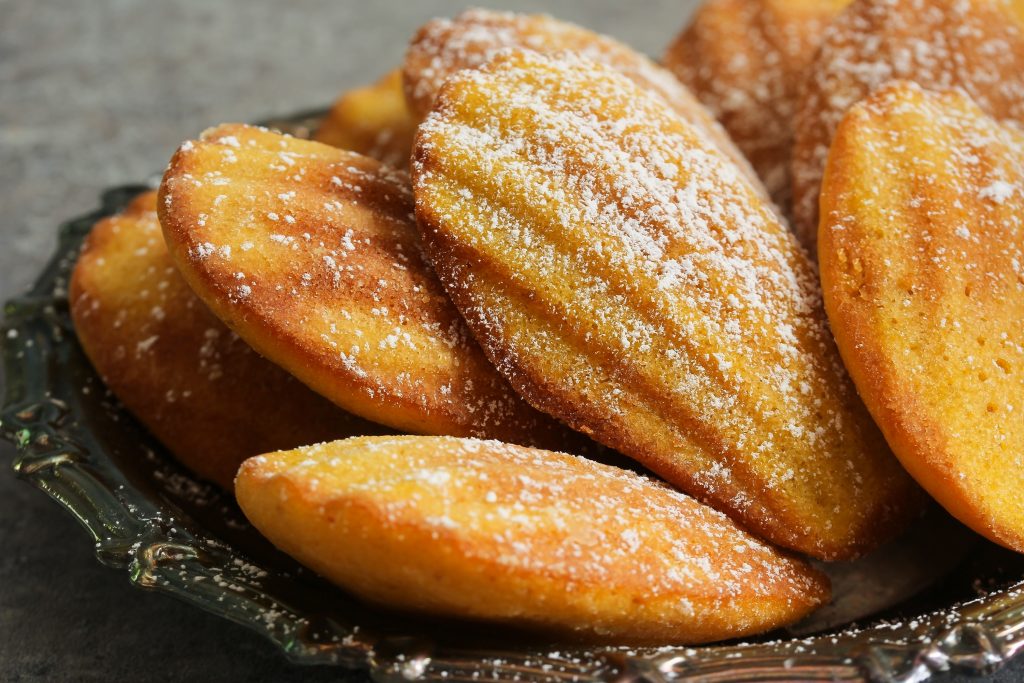 Victorian Sponge Cake
As the name implies, the Victorian sponge cakes come from the royal kitchens. It is a double-layered soft and fluffy sponge cake that has a middle layering of cream or jam. On the outside, it is dusted with icing sugar. It is one of the most sophisticated and sweet high-tea items. There are no distinguishable varieties of this foodstuff, except for the cream or filling used.
Basic Victorian Sponge Cake Recipe:
Ingredients:
1 Cup All-Purpose Flour
1 Cup Caster Sugar
1 Cup Softened Butter
1 Teaspoon Vanilla Extract
1.5 Teaspoons Baking Powder
2 Eggs
½ Cup Milk
Method:
First, preheat the oven at 200-220°C. Next, sift flour and baking powder and then set aside. In a separate bowl, beat butter and sugar until you obtain a fluffy mixture. Add vanilla extract and beaten eggs into it. Also, add milk gradually. Then, add the flour-baking soda mixture into it and mix it well. Once thoroughly mixed, pour the batter into an 8-inch greased pan and let it bake for 20-30 minutes. Once baked, cut into two equal halves horizontally and layer with cream or jam.