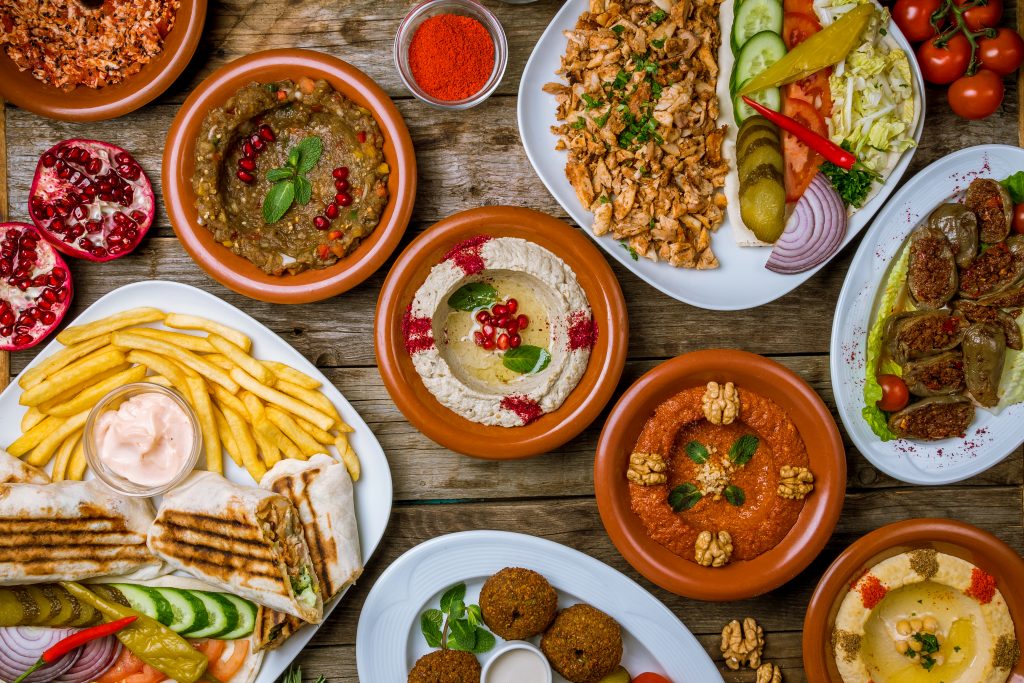 4-Dips for Shawarma
Wandering in the Pakistani streets, one can never miss out on the frequently appearing and much crowded Shawarma stalls. The mouth-watering aroma of the meat slowly cooking in the tower is simply irresistible.
Even if you aren't hungry, you are likely to end up sitting on those traditional wooden benches nearby and lick down the last bits of Shawarma.
It is true that Shawarma does not originate from the Pakistani cuisine, though it has become a prominent part of the street food culture.
First, the thinly sliced meat gets seasoned and cooked. Then, wrapped in steaming hot pita bread, along with sliced vegetables and creamy sauces. The combination is divine!
Well, in the account of the current times, you probably cannot go to a Shawarma stall or order one from a food shop. But, you can certainly recreate the dish at home!
Lately, I have heard about a lot of people cooking Shawarmas at home. And, sadly, they all have one common complaint; Although I added all the ingredients in the recipe, it turned out pretty dry.
Shawarma can get dry for a number of reasons, which include the composition or wrong meat handling. Nevertheless, you can always turn your pretty dry Shawarma into a scrumptious juicy one using dips!
Here are the best dips for Shawarma: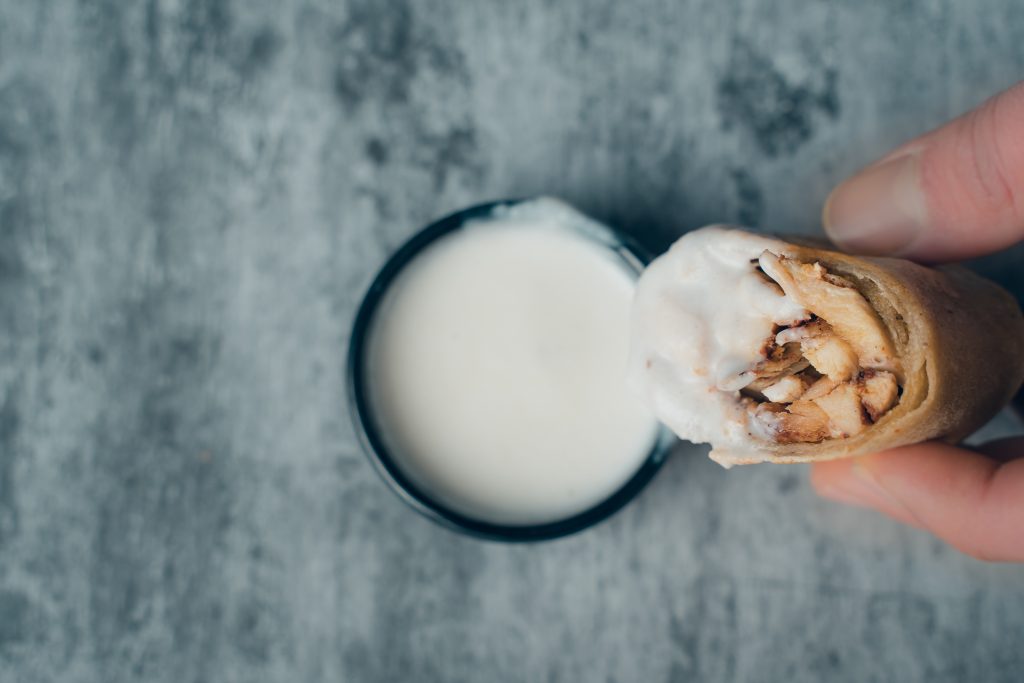 Best Dips for Shawarma
By definition, dips and sauces are liquid or creams that one uses while preparing the main dish. The remaining sauce can also be served in a separate bowl alongside the main dish so that the diner can take more if need be. However, some dips are prepared separately and exclusively to be served with the main dish. Primarily, sauces help to enhance the flavor of the main dish or make it more satisfying.
Here, our main dish is none other than Shawarma itself. But the sauces below belong to different categories of sauces. Some are remnants of Shawarma sauces, and others get exclusively prepared as a side dish.
Tahini Sauce
Evident from the name, tahini sauce is a sesame seed-based sauce. It has a nutty flavor with a slight bitterness. Or more accurately, it has a bit of tangy flavor which enhances the collective flavor of Shawarma's contents.
You can easily prepare this sauce by taking water and sesame-seed paste in a 1:1 ratio. Also, in every quarter cup of diluted sesame paste, you should add two tablespoons of lemon juice. You can also add salt, pepper, and red pepper flakes as per taste.
Yoghurt Garlic Sauce
Yogurt Garlic Sauce has a thick consistency. It is a mix of lemon juice, grated garlic, salt, mint, and dill (a herb). You can also add one or two tablespoons of the tahini paste to make it thicker.
In terms of taste, it is creamy and tangy. You can store it in an airtight container for up to three days.
Tarator Sauce
In the Middle Eastern countries, Tarator Sauce has been famous for ages. It was also one of the mysterious, the recipe of which remained secret to the world.
But thanks to the advancing world, now we have the complete recipe. Fundamentally, it is the same tahini sauce but with the addition of garlic, chopped parsley, and ground cumin. Hence, its flavor resembles that of tahini paste but is slightly stronger.
Falafel How Sauce
If you prefer eating your Shawarma hot and spicy, then this sauce is just for you! It is a phenomenal blend of garlic, lemon juice, parsley, ground cumin, chopped parsley, cilantro, salt, ground coriander, olive oil, and jalapeno peppers. It is certainly a fiery blend. Although the name says falafel, it is usually served with Shawarma.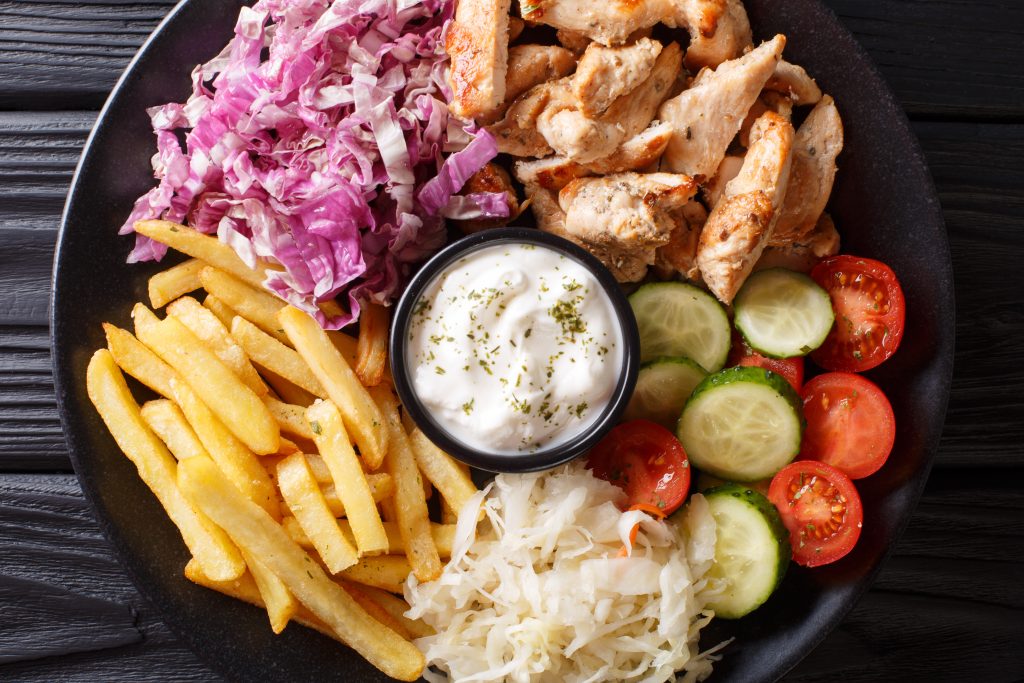 Serving the Shawarma
Other than these dips, you can further augment the flavors of Shawarma by serving it with a few side dishes. Although Shawarma itself is a complete meal, adding some sides will make it delightful.
You can serve Shawarma in several ways, though the usual ones include:
Serve it with sliced vegetables (such as tomatoes, cucumbers, and lettuce) as well as a simple sauce (such as yogurt sauce, chili sauce, or hummus).
Serve it with a Middle-Eastern rice dish and a salad, such as Mejadra and Chickpea Salad.
Also, to present the perfect Shawarma on the dinner table, ensure that it is at least slightly warm. A cold Shawarma is nowhere as satisfying as a hot one. Moreover, avoid preparing Shawarma ahead of serving as it can make it dry. A 30 minutes make-ahead Shawarma is okay, but not more than that